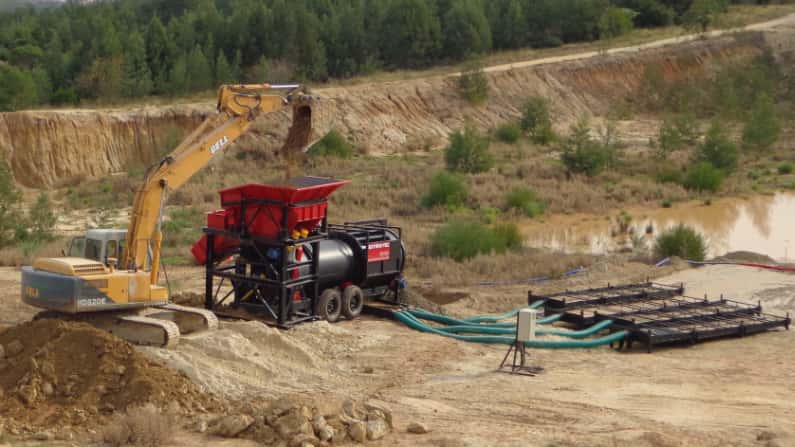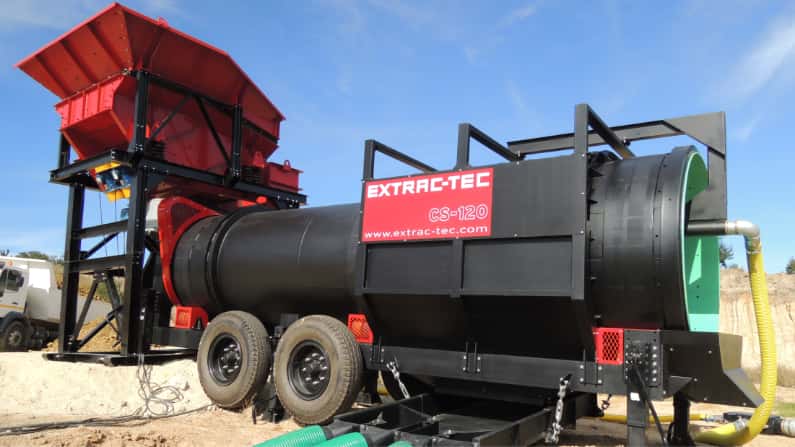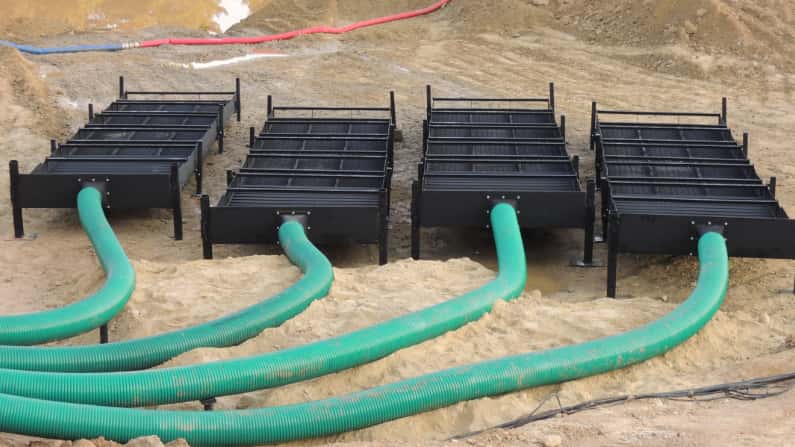 SYS-120_010-S
With a capacity of up to 120 tons/hour, System-120 consists of a Vibrating Grizzly Feeder, Scrubbing / Screening unit and Recovery Sluice Boxes.
SYS-120_020-S
The VF-120 Vibrating Grizzly Feeder can be fed
with an excavator or a small wheel loader.
SYS-120_030-S
The CS-120 provides aggressive scrubbing and efficient and customizable screening with controlled distribution of undersize slurry to the recovery process.
SYS-120_040-S
Recovery is performed by four high-capacity sluice boxes
which allow for cleanups without stopping production.
System-120: High Capacity alluvial mining wash plant
For high capacity operations, we offer a modular wash plant solution with capacity of 120 tons/hour, which can be adapted to suit your requirements.
As with other EXTRAC-TEC systems, benefits include:
Ability to configure and optimize Scrubbing, Screening and Recovery processes for superior gold recovery based on your specific requirements.

Heavy duty and simple-to-operate equipment, fitted with replaceable wear liners which is extremely robust and requires minimal maintenance.

Chemical-free operation to minimize environmental impact.

Equipment designed to fit standard shipping containers for international transportation and to provide excellent on-site mobility.

Installation, operator training and after-sales service can all be provided by EXTRAC-TEC.
System-120 consists of 3 process modules:
1. Feed System
The VF-120 Feeder Module is an excavator-fed, fully independent Grizzly scalping feeder 1200 wide x 2650 long with one row of 1550 long grizzly bars, fitted with a dynamic underpan and a static oversize chute and mounted on a skid base for standard container shipping.
The Grizzly is mounted on steel coil isolation springs and driven by 2X2.0kW pole vibrator motors. The VF-120 can also be equipped with a high-pressure Grizzly washbar system for rinsing of oversize rocks prior to discharge. (Optionally a simplified Feed Chute can be supplied or the system can also be fed with a high-capacity Hopper / Conveyor if material is best suited to this technique).
2. Scrubbing and Screening Unit
This is a 3-Chamber rotary Trommel Scrubber with double-drum, heavy-duty rubber/urethane mining screen and undersize slurry distributor.
Note: the Screening section of this unit includes Rubber and Urethane screening panels which can be exchanged / chosen to size material specifically for your ever-changing material profiles which allows you to optimize classification based on the exact particle sizing of your deposit.
The entire unit is 7.6m long and mounted on towable trailer with Landing Legs and fitted with 15kW variable speed drive system, replaceable wear-liners and custom-fitted / interchangeable rough and fine screen panels.
Slurry distributor permits control of gravity feed via slurry hoses to 1, 2, 3 or 4 recovery units.
3. Recovery System
You can choose between standard and high-recovery options.
The standard recovery system is a set of 4 X High-capacity recovery Sluice Boxes fitted with Riffles, Concentrate Matting and Riffle Locks.
With the high-recovery option, slurry from the Scrubbing/Screening unit is split and fed to 4 X HPC-30 recovery units. This option offers the highest capacity and recovery option possible.